Discover Sardinian delicacies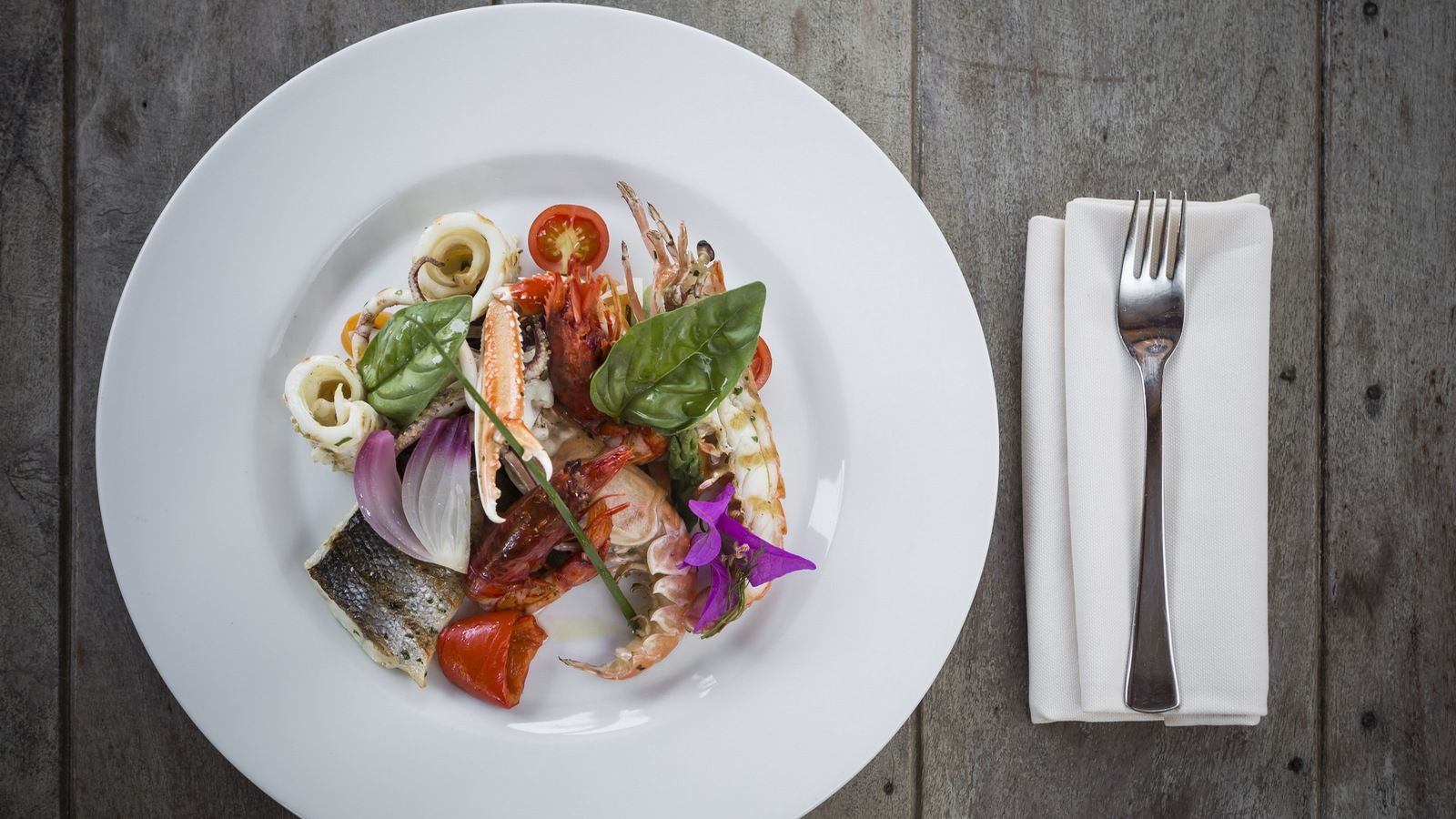 Seasonal Menu
Traditional Tasting Menu
Seasonal Menu
Try our exquisite dishes fresh from the sea or delicacies from the island.
Appetizers
Mixed salads buffet - 15
Vegetarian
Beef carpaccio - 22
flavoured with Sardinian citrus
Classic stew of mussels & clams - 20
Octopus and potatoes salad - 18
scented with lemon and extra virgin oil
Salads
Summer - 20
mixed salads, pineapple, kiwi, salmon marinated with citrus and yogurt sauce (vegetarian)
Crispy - 20
lettuce, poppy seeds wholemeal bread croutons, crispy bacon, pumpkin seeds, datterini tomatoes and tomato mayonnaise (vegetarian)
Nicoise - 20
French beans, potatoes, tomato cherry, olives, anchovies and basil (vegetarian)
Yacht - 20
steamed prawns, avocado, red lollo lettuce, nectarines peaches and citronette
First Course - from the land
Spaghetti "alla Carbonara" - 20
Tagliatelle "alla Bolognese" - 20
Sardinian gnocchetti pasta - 20
with vegetables ragoût and pecorino cheese (vegetarian)
Spaghetti "all' Amatriciana" - 20
with Sardinian (doc, quality assured, AOC) cheek lard
First Course - from the sea
Egg tagliolini pasta - 22
with lobster in fresh tomato sauce
Spaghetti with seafood and shellfish - 22
Spaghetti with clams and mullet bottargo - 20
Egg tagliatelle pasta - 22
with pesto and prawns
Second Course - meat & poultry
Second Course - from the sea
Tuna fillet - 22
quickly seared with aromatics herbs and seedless diced tomato
Mixed fried squids, prawns and baby fishes - 22
served with battered vegetables
Pomodoro Classics
Breaded veal escalope "Milanese" style - 20
with rocket, cherry tomatoes and basil
"Fish & Chips" Pomodoro style - 18
Side Dishes
Selection of grilled vegetables - 10
Vegetarian
French fries - 10
Vegetarian
Steamed spinach - 10
Vegetarian
Desserts
Traditional Sardinian sweet - 12
stuffed with cheese & topped with honey
Panna Cotta - 12
Cream pudding
Chocolate mousse - 12
with berries
Selection of sliced fresh fruit - 12
All prices indicated in Euro
Service charge and VAT included
To reserve your table, please fill the online form. Early bookings are recommended.
Traditional Tasting Menu
For an authentic island culinary experience go for this exquisite menu with a selection of traditional dishes and get to know the rich Sardinian cuisine.
Hors D'Oeuvres
Sardinian mixed cold cuts
First Course
Sardinian gnocchetti pasta - Vegetarian
with vegetables ragoût and pecorino cheese
Main Course
Typical Sardinian spit
sausage, roasted suckling pig, lamb
Dessert
Traditional Sardinian dessert
with cheese filling and honey topping
Price Traditional Dishes Menu
Euro 55 per person
Lunch

12.30 pm - 3.00 pm

Dinner

7.30 pm - 1.00 am